Scroll down to discover the untold personal stories behind our quartet members.
Hailing from the unfortunate state of New Jersey, Louis studied at and graduated from Tufts University with a dual degree in Nintendo History and A Cappella Arranging (just kidding, he's an engineer or something). Originally a barbershop Lead, he was nice enough to ditch his previous sectional preference to sing the really high notes in Greenlight, and for that, the quartet is eternally grateful. Hobbies include: artisan tequila, Tinder, SpongeBob SquarePants, getting lost in thought, driving the speed limit, and sleeping. You may have spotted him walking around Somerville recently with his eyes permanently fixed to a handheld console playing Legend of Zelda: Breath of the Wild on his Nintendo Switch. While at times limiting, Louis' strict kosher diet is a blessing in disguise… without it, the rest of the quartet would probably have exploded/slipped into food comas from too much Ma Magoo's a long time ago.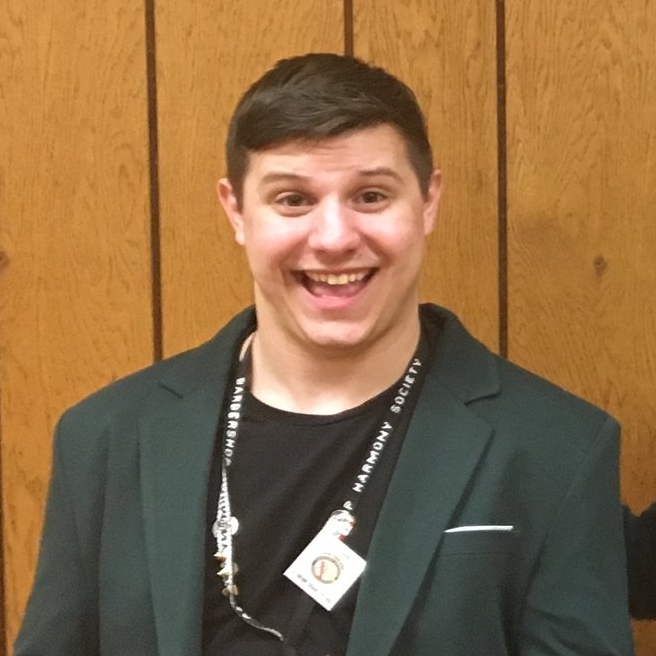 We in the quartet couldn't be happier that the wonderful Will Rogers is singing as our bass--no wait, Baritone. As with Louis, he also embraces the adventure of singing a voice part perhaps way higher than he should. The only member of the quartet native to Massachusetts, Will is the current active director of the Harpoon Harmonizers, the New Bedford Chapter of the Barbershop Harmony Society. Currently at 8 years, he has been barbershopping the longest out of any of us. Hobbies include ingesting Ma Magoo's, cruising in his orange Jeep Wrangler, Spongebob, welcoming friends into his Jeep Wrangler if they're in need of a ride, hosting sleepover parties on Louis's couch, and pummeling his Jeep Wrangler through snowbanks to get a parking spot. Did we mention that he has a Jeep Wrangler?
Once you get to know Will, you learn that he is one of the sweetest guys on the planet. Once you get to know him a little further, you also learn that his years of Brazilian Jiu Jitsu training should make you really glad that you're not his arch nemesis.
Chris, like his Lead counterpart, also hails from the debatably New England state of Connecticut, but masquerades as a resident of Massachusetts (seriously, do you even go here?). As the singer of the lowest notes (and that's all he can sing. Don't even ask about other parts...), Chris does much of the heavy lifting in rehearsals. This is not to say that Chris is buff... However, he does run pretty fast. Chris is also the barbershop baby of the group, which means he just does what we tell him to do. Good news is he's a great listener. In past lives, Chris has done notable things such as directing the University of Hartford all-male a cappella group, Hawkapella. Currently, he works for the US DOT. He's really good at finding flutter echos for them. I mean, the guy can walk in a room, clap his hands, and he just knows. Interests include doggos, getting tired simply by being around our tenor for a whole weekend, being our resident GIF-master, and generally having a veritable arsenal of interesting noises to deploy during rehearsals. Of all the quartet members, he's the most normal. There's something to respect there... but the other three don't know what it is we're respecting... because barbershop. Anyway, a tip of that hat to our mighty awesome bass, Chris Cutler!
 
Sebby, our fabulous Lead singer, was born, raised, and currently resides in the land next to the highway that connects Boston to New York City (or as it's more commonly known, Connecticut). An expert in crêpes and peanut butter-banana milkshakes, Sebby graduated from Fordham University at some point. Sebby is the most accomplished and experienced Barbershopper of the group. His high school quartet "The Timely Gents" represented the Northeastern District in the 2012 International Collegiate Quartet Contest, making him the only Greenlight member to sing on the international stage in a quartet. They also placed 5th (it was a tie) at the Northeastern District Quartet Contest, after several personnel changes. Sebby is an Associate Director of the Hartford, CT chapter, and serves on the District Board of Directors as the VP of Membership and Outreach. He is also a section leader in his church choir (#teamjesus). Being the oldest member of the quartet by a little bit, Sebby has embraced his informal role as the quartet Step-Dad. He's good at this role because he tells us what to do now that he has an influence on our lives, but does cool things with us on the weekends so we'll actually listen to him. When he's not convincing us to commission Cay Outerbridge for new arrangements, Sebby can be found visiting his girlfriend Aurelia in Texas, eating BBQ in Texas, shooting guns in Texas, or traveling somewhere far away, like Texas. While having to travel the furthest to rehearse with us may sound limiting, Sebby brings a great attitude to the quartet culture, and fully enjoys helping our quartet find its best sound, by force if necessary. All in all, we love Sebby, and he is by far the best Lead in the quartet.